Commercial Fencing
Washington Fencing Companies

North Carolina Fence Company
At Pamlico Fence Company of Washington, NC, Greenville, NC, New Bern, NC, Winterville, NC, Williamston, NC, Raleigh, NC, Durham, NC and surrounding areas we provide installation of fences, gate operators and access controls to a wide variety of commercial companies all over North Carolina. Our services include high security, athletic fields, tennis courts, prison fencing, retention ponds, airport fencing, and more. We also offer many other fence related items such as specialized gates, and foul poles.
At Pamlico Fence Company, we bring years of experience and craftsmanship when designing and building fences. Whatever your need may be, our team of professionals will create a fence built with the highest quality materials and with impeccable standards.
Please click on the pictures below to see additional pictures of fences built by Pamlico Fence Company.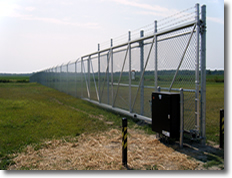 Commercial Chain Link Fencing
Being one of the most economical and cost-effective fences on the market today, it's no wonder the chain link fence is the top-selling fence system in the world! Our commercial chain link at Pamlico Fence Company in Washington, NC is available in heights ranging from 3 feet to 30 feet. It is ideal for protecting the perimeters of your business, and is especially cost-effective if you have a large area that needs to be enclosed. There are several alternatives for mesh, gauge, post and top rail diameter, and post weight. Access Card Readers, Remote Control Entry and Gate Operators are just aome of the many accessories we have available to enhance security.
At Pamlico Fence Company, we'll work with you to design a chain link fence that will meet all your needs.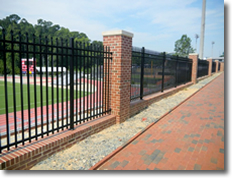 Commercial Ornamental Aluminum & Steel Fencing
Our commercial powder coated aluminum is replacing the older methods of wrought iron. It has the strength and durability that meets commercial specification requirements. There are many different heights and styles to choose from in the commercial aluminum and steel fencing. If you want the look of wrought iron, but don't want to pay the high price, then ornamental aluminum is the fence for you. Ornamental Aluminum is made of rust-resistant aluminum. It cost less than wrought iron, and is virtually maintenance-free since it won't crack, chip, peel or corrode. At Pamlico Fence Company, we offer commercial ornamental aluminum in 3 to 8 feet heights, and several colors including white, black, bronze, brown and beige. Accessories are available to complement your aluminum fence including tri and quad finials, butterfly scrolls and circles. These accessories can be powder-coated to match your fence color or they can be ordered with a gold finish.
All of our alumiunum and steel products come with a Life Time Warranty.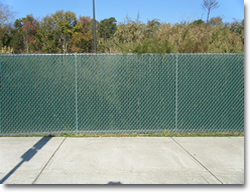 Temporary Fencing
Pamlico Fences will work closely with you to effectively secure and protect any construction job site, special event, work area, disaster relief zone, or other restricted area from public access.Our experienced staff will assist you with selecting a temporary fence solution from a wide variety of affordable temporary fencing products: Chain link fence, Chain link fence panels - free standing, Fence Gate, swing gates, sliding gates, walk through gates, Additional options for security fencing, windscreen and more...
Pamlico Fence will work closely with you to ensure that your portable fencing needs are met.